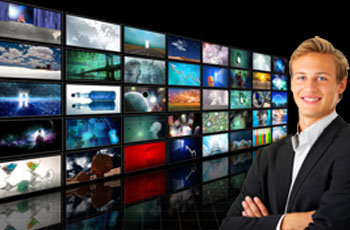 Global Media Broadcast
Global Media Overview
Imagiforce is capable of serving several functions, we can offer unique multi-platform marketing and advertising opportunities. Imagiforce blends other specialty releases with its own products, which are direct marketed through the Imagiforce various properties and other outlets – Filmed Entertainment, Direct Broadcast, TV, Magazines, Digital Media and the Web.
Our E Business Network introduces the world's first multi-platform (On Air) Import-Export Business Exchange, with a spotlight on new technology products, from different industries around the world. This unique interactive resource and business solutions arena, along with a global marketplace allows for both business and public participation.
Our mission is to provide people with the world's premium content, along with the first hand information they need, in order to make decisions about the right products, services and brands that fit their own lifestyles.
Imagiforce Global Media
A vertically integrated TV and Internet broadcaster, creator and international distributor of film – video – DVD and other content.
World Of The Future
"Discoveries For The 21st Century" – with streaming media, broadcasting the latest news in science and technology, along with special focus on health and alternative medicine. Travel through space and time, as Imagiforce Research shares it's knowledge of many medical case studies and other industry breakthroughs, with instant access to the Imagiforce Digitized Book & Video Database, so viewers can see for themselves, excerpts from actual case studies, etc, relating to the subject at hand.
Organic Trade Zone
Streaming the best in health information that is changing people's lives daily.
Tips from the Pros
Learning technical information at your own pace with our training network. Streaming instructional videos for specialized software.